Veteran and Wife Rebuild Their Future with Habitat for Humanity Homeowner Repair Program
Habitat Humanity of Council Bluffs • Homeowners Repair Program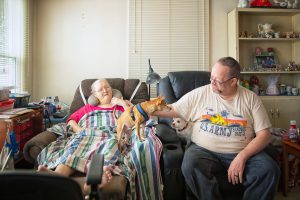 "I've always been hardworking and never wanted to take handouts or take advantage of programs. I was leery of possibly having to use Habitat at the time, but I'm proud of what they've done. I'm proud to have had their help."   – Bob Kyle. 
Bob and Glenda Kyle were recipients of $10,000 of funding through The Homeowner Repairs Program through Habitat for Humanity of Council Bluffs.  
The Homeowner Repairs Program provided the Kyle family the opportunity to stay in their home and gave Glenda Kyle back her sense of independence.  Because of the program, Glenda is able to leave her home, she can go outside, breathe fresh air, and feel the sun, something most people take for granted. 
"I tell people Habitat is not a handout. It's a hand up." Bob Kyle said. 
Kyles' Story
The Kyles have been married for 36 years and purchased their first home together in 2021. They had rented for years and were finally able to secure a loan through the VA. Bob is a retired vet. He even enlisted twice in the army before being medically discharged.  With the purchase of their home came responsibilities but also freedom. Freedom to make changes without checking with a landlord. Unfortunately, this freedom didn't last long for Glenda.  Shortly after their move, Glenda was homebound. She was bound to the main floor of her home, unable to leave because of the number of stairs to enter and leave the house. In 2022 Glenda only left her house four times by ambulance and with the assistance of the fire department and EMTs. 
Glenda is a people person. Over the years, she's worked in a few different industries ranging from an elementary school teacher and radio DJ to the secretary at the Farm Association in Georgia. This federal initiative helped farmers and those of a lower socioeconomic status purchase homes. However, her favorite job was picking up senior citizens and helping them with the basics. Glenda laughed as she said, "I thought they were so old back then, 80 or 90 years old. For years, I drove them to the pharmacy to pick up meds, the grocery store, just everyday errands."  
For some of these seniors, she was their lifeline and support system. Without Glenda and the agency she worked for, some of these seniors were unable to leave their homes. Without services like this, many seniors would have been forced into a managed care facility and could face leaving their communities, losing their sense of independence, well-being, and belonging.
What did the funding do for the Kyles? 
The Kyles were awarded the maximum amount of $10,000 to install a chair lift to allow Glenda the ability to enter and exit her home. The grant also allowed for relocating the back door, giving Glenda access to the backyard, where she loves to watch her dogs play.  These updates have given her back some freedom. She said the ability to leave her home without help has improved her mental health tremendously. 
Haimi Dagnew is the Program Associate at Habitat and worked with the Kyles throughout the project. She managed the scope of work and worked tirelessly to find a solution. She coordinated bids from contractors and agencies, some of which declined the project entirely because of the scope of work and $10,000 budget. It was through her relentless spirit and her can-do attitude that she found a way to make this project work. 
Matt Frieze, owner, and General Contractor of  Heartland Handyman Services, was determined to find a solution for the Kyles.  Matt and Haimi worked through ideas and concepts with help from Glenda and Bob. It was a sense of relief. They could focus on their health. 
"Haimi was boots on the ground, she didn't give up." Kim Smith – Habitat for Humanity.  
Together, they ultimately relocated the backdoor, added wheelchair access to the backyard, and found a wheelchair company willing to work with the project's specs. Haimi was diligent in keeping Glenda and Bob close to the project and the changes that would be made to their home. Through these repairs, Glenda has gained a sense of independence. It has allowed her to leave her house and access her backyard. 
What is the Habitat for Humanity Homeowners Repair Program?
The Homeowners Repair program allows homeowners access to up to $10,000 in funds to make critical repairs to their homes, repairs that alleviate health and safety issues, to increase the quality of life, and ultimately, to keep homeowners in their residences. With the current housing marketing and lack of inventory, it's unrealistic for homeowners to purchase a new home or make costly updates on fixed incomes. 
The program launched in 2021 because of the changing landscape around housing. "We (Habitat) recognized that homeowners didn't have an option. We want to keep people who have a home, in their home because they can't afford a house in this housing market." Kim – Habitat for Humanity. 
Anyone can apply for the program, but the focus has been on those aging in place and those needing critical repairs. 
What's the outcome? 
Keeping people in their homes and allowing aging in place fosters a sense of independence and empowerment.  It allows seniors to stay engaged in their neighborhoods and communities, the place they call home. Typically, staying in one's home is exponentially more affordable. They don't have the option for other home-managed care settings. 
"We know there are many retirees who live on fixed incomes. However, as their homes age, the costs of maintaining them can increase too. Without an increase in their income, they are often faced with difficult tradeoffs that can lead to deferred maintenance. Over enough time, it can threaten their ability to stay in their home. The Habitat for Humanity of Council Bluffs' repair program can help keep homeowners in their homes and ensure they have safe places to live. It accomplishes two goals; it maintains higher levels of homeownership, and it keeps our community's housing stock in good condition." – Matt Henkes, Vice President of the Iowa West Foundation 
Habitat for Humanity was awarded $60,000 for the Homeowners Repair Program in 2023, allowing for six repairs at the maximum repair amount of $10,000. The program currently has an operating budget of $180,000, with plans to grow the program and have a bigger impact in the community. In 2022, Habitat made repairs to 18 homes. That's 18 stories with similar needs to Bob and Glenda.  Growing the program will allow more homeowners to access funds. Critical updates could mean the difference between homelessness or the delay in entering a managed care facility. 
This program will allow more homeowners an opportunity to make necessary repairs and updates. And for some of these projects, they can be life-changing.  For Glenda and Bob, their lives were changed.