Iowa Legal Aid: Eviction Diversion Help Desk
From Crisis to Solution: Iowa Legal Aid's Impact on Eviction Rates 
Have you ever been so shocked by a statistic that it drove you to make a change?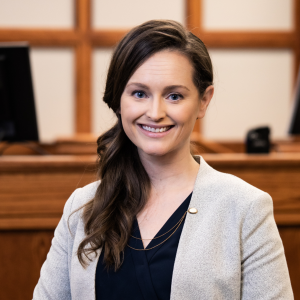 Erin Planalp, an attorney with Iowa Legal Aid, was immediately alarmed when she learned Pottawattamie County had the greatest increase in the number of evictions from 2015 to 2019 compared to the rest of the state.
"What made Pottawattamie County so different from the rest of Iowa?" Erin Planalp wondered. "Why the increase?" she thought. "What could Iowa Legal Aid do to help?"
Wh0 is Iowa Legal Aid? 
Iowa Legal Aid is a nonprofit organization that provides free legal assistance to vulnerable Iowans. This includes those facing eviction, to ensure they are able to protect their rights, even if they can't afford an attorney. From helping garner child support to applying for disaster relief funds, the role of Legal Aid is vital for Iowans who otherwise can't afford civil services but seek fairness and justice. With eviction notices on the rise in southwest Iowa, it was apparent to Planalp that something had to be done when it came to housing rights as well. 
Planalp worked for six months to interview agencies and community partners to compile all the available resources into an easy-to-navigate flow chart for her staff. They began to use it as a visual and practical aid to help those facing eviction.
From that, the Eviction Diversion Help Desk was born. 
Eviction Diversion Help Desk

The Eviction Diversion Help Desk is free legal assistance to help Iowans stay in their current housing and avoid immediate homelessness. The help desk is staffed by Iowa Legal Aid during all scheduled eviction hearings held at the county courthouse.
Eviction help desks were present in four other Iowa counties, Black Hawk, Linn, Polk, and Scott, before Pottawattamie secured the funding to open and operate a help desk with support from the Iowa West Foundation. The state now has six help desks across the state. 
How does the desk work? 
The goal of the desk is to keep people housed and avoid eviction or any disruption in housing. In essence, Iowa Legal Aid works to buy time in order to connect individuals with the available resources to stabilize the situation.  Iowa Legal Aid does not provide direct rental assistance but is more of an information hub. 
"It's been a lot of relationship building with good outcomes for both the tenants and property owners," said Erin Planalp, Iowa Legal Aid
While the benefits to tenants are obvious, there's also a huge benefit to the Property Owners and Managers (POMS), who are essentially small business owners and aren't looking to constantly replace evicted tenants. By engaging with POMs throughout the process, it cultivates the necessary relationships for emergency services that allow people to stayed housed and also for the POMs to be paid rent.  POMs can also call Iowa Legal Aid to help tenants find the resources they need.

What is the Outcome?
Eviction Diversion programs not only help the individual but the community at large. 
In 2022, Iowa Legal Aid worked on 222 eviction cases. That's 443 people who received help with their eviction case.  A staggering 94% of these cases ended positively, keeping people housed. 


Eviction Diversion programs help prevent homelessness, which severely affects individuals' physical and mental wellbeing both short-term and long term. When offered an alternative like this, people can avoid the trauma and disruption of homelessness. 
Evictions also have financial implications not only for the individuals, but also for the community. Individuals experiencing eviction and thus homelessness may require emergency shelter, temporary housing assistance, or other forms of public assistance provided by the government and/or community organizations. By diverting evictions and helping individuals remain in their homes, it decreases the need for emergency assistance and other costly interventions.
Grant Logistics 
Iowa West Foundation awarded $225,000 to Iowa Legal Aid for the Eviction Help Desk in 2022, which allowed 94% of their clients to remain in stable housing. Stable housing is essential for the overall wellbeing of individuals and communities. 
When people have secure and affordable housing, they are more likely to have better physical and mental health outcomes and gain financial stability. This grant promotes community cohesion and enhances the overall resilience of the community. 
Learn more about Iowa Legal Aid and the Eviction Help Desk here. 
Written by Nicole Lindquist, Director of Communications